ADHERES TO THE CONCEPT OF GREEN DEVELOPMENT
China Unicom adheres to the concept of green development. It coordinated and promoted green management, network construction, operation and other work, strictly controlled energy consumption intensity and reasonably controlled the total energy consumption. It deeply promoted the green empowerment of industries to facilitate green and low-carbon production, living and governance, thereby contributing to carbon peak and carbon neutrality, and bringing ecological benefits to the people.
Improving the green management system
In compliance with the Environmental Protection Law of the People's Republic of China, the Energy Conservation Law of the People's Republic of China and other laws and regulations related to environmental protection, China Unicom actively responded to the adjustment brought by national climate change. It established the "Carbon Peak, Carbon Neutrality" Management Committee, to guide the establishment and improvement of the Company's "Carbon Peak, Carbon Neutrality" management system, and decide on relevant major work matters. The Management Committee has set up a "Carbon Peak, Carbon Neutrality" management office, which is responsible for research on relevant policies, establishing and improving relevant systems, organising the research and development, testing and promotion of energy-saving and carbon reduction technologies, and organising relevant training, publicity and exchanges, striving to reduce carbon footprint.
The Company formulated and released the "Carbon Peak, Carbon Neutrality" 14th Five-Year Action Plan, and launched the "3 + 5 + 1 + 1" action plan. With the goal of green and low-carbon circular development, the Company comprehensively, systematically and deeply promoted energy conservation and carbon reduction, continuously improved the greenness of communication network infrastructure, and helped bring the green and low-carbon development of the industry to a new level. It made a positive contribution to the country's 2030 targets to increase the proportion of non-fossil energy consumption to about 25%, and to reduce the carbon dioxide emissions per unit of GDP by more than 65% as compared with 2005.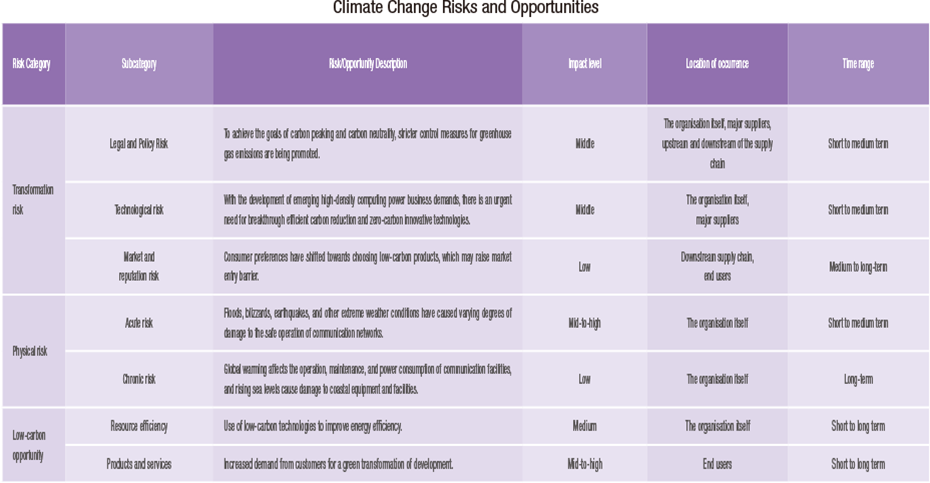 Enhancing green production and operation
Promoting green and low-carbon production
China Unicom actively promoted the intelligent transformation, energy-saving innovation and green upgrade of communication infrastructure to improve comprehensive energy utilisation efficiency. The Company enforced strict control from the source of equipment procurement, implemented energy-saving responsibilities, put forward energy-saving KPI requirements, and allocated RMB130 million of special fund for energy-saving transformation.
Promoting 5G energy-saving technology.

The Company conducted in-depth research on key technologies for 5G energy conservation, installed small air-conditioning and energy-saving equipment such as fresh air, and made full use of clean energy, appropriate hibernation, timespecific shutdown and other measures to reduce the high energy consumption of 5G. Based on the concept of green environmental protection, the Company built the "4G/5G collaborative intelligent energy-saving management platform" to achieve intelligent coordination of multi-mode network and differentiated energy-saving management with "one policy for one station", so as to promote the sustainable development of communication networks in a green, efficient and intelligent manner.

Building green data centres.

The newly-built communication equipment room (including data centres) strictly followed the requirements of the national and local industry authorities on environmental impact assessment and environmental protection acceptance. The Company introduced high-voltage direct current and municipal direct power supply technology, simplified the power supply system, optimised the air flow organisation of equipment rooms, and made full use of natural cold sources, air conditioning atomisation, closed cold and heating channels and other means to reduce power supply loss and improve cooling efficiency.

Promoting the optimisation and upgrading of production capacity.

114 sets of MGW equipment for core network were decommissioned. 40 sets of PSTN equipment and 27 sets of NGN equipment for integrated access network were decommissioned. Approximately 45,000 ports of outdated MSTP/SDH equipment and approximately 897 ports of outdated WDM equipment were retired from the transmission network, with a completion rate of 187%. 62 sets of DCN backbone equipment for data network were decommissioned. The Company continued to retire aging equipment for ancillary infrastructure, saving electricity costs of approximately RMB23.95 million for the year.

Strengthening the management of electromagnetic radiation.

In the construction of mobile communication base stations, the Company strengthened the management of electromagnetic radiation of base stations to ensure that the electromagnetic radiation of base stations met the requirements of national standards. After the completion of base station construction, base stations were tested for electromagnetic radiation, and the test data were disclosed to the public on the web for public supervision.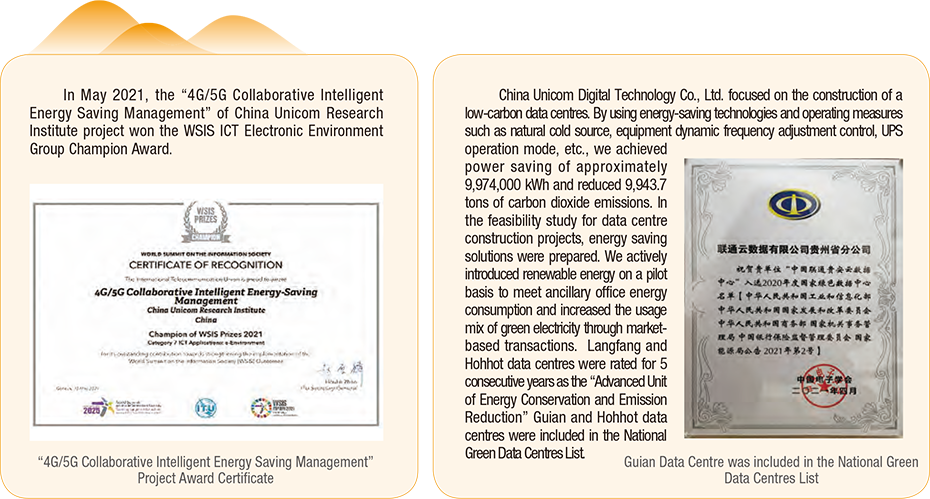 Promoting green and low-carbon operation
China Unicom actively carried out green office, green product design and business services, built a green supply chain system, and deepened resource recycling.
Practicing green office.

The Company unswervingly implemented the concept of "green office", adopted high-efficiency energy-saving and environmental-friendly products and built resource-saving and environment-friendly office buildings around office air conditioners, building elevators, office lighting, employee canteens and other office and living scenarios. We have formulated special measures for vehicle fuel saving and consumption reduction, and timely scrapped vehicles that had reached the end of life, failed to meet environmental standards, and had high consumption of fuel and material maintenance. The Company continued to promote the digital operation of business outlets, actively guided users to sign up services online, and realised digital operation and paperless signups.

Reasonable use of water resources.

Strictly complying with the relevant requirements of the "Water Law of the People's Republic of China" and the "Water Pollution Prevention and Control Law of the People's Republic of China", we strengthened daily water conservation management, and improved the reuse of water resources from trivial issues, such as using surplus water for cleaning, dust removal or watering, collecting rainwater for outdoor green space irrigation. We strengthened equipment maintenance and inspection to avoid leakage. The Company's daily office and production and operation water is mainly sourced from municipal unified water supply, and there is no risk of water pollution.

Building a green supply chain.

The Company issued the Notice on China Unicom Strengthening the Independent and Controllable Supply Chain and Encouraging the Development of Green and Low-Carbon Procurement, and separately set out green and low-carbon requirements in the centralised procurement of 5G and other network equipment to increase the weight of energy-saving KPIs. We required suppliers to provide products that meet the requirements of green packaging, not to use toxic and hazardous substances as packaging materials, and to use recyclable, degradable or harmless packaging materials to avoid excessive packaging.

Strengthening recycling.

The Company established an internal revitalisation mechanism for idle materials based on fair market value, and the accumulative revitalisation and allocation of materials amounted to RMB78 million. Public auctions for disposed assets were held through online auction platforms. The transaction value amounted to RMB456 million, of which retired batteries accounted for RMB122 million and other scrapped materials accounted for RMB334 million.

Carrying out green publicity.

By fully leveraging activities such as the National Energy Conservation Publicity Week and the National Low-carbon Day, the Company organised energy conservation publicity activities both online and offline, and educated and guided employees to practice green consumption and low-carbon lifestyle, so as to improve the awareness of energy conservation, emission reduction and environmental protection of all employees, and create a new fashion of green and low-carbon life.

Strengthening green empowerment of industries
China Unicom gave full play to its technological advantages in 5G, cloud computing, Big Data, Internet of Things and AI, focused on key scenarios such as carbon emission reduction, smart water conservancy and environmental monitoring, developed green and intelligent application products, and launched informatised green solutions to empower the green transformation and upgrade of thousands of industries.
Building "Dual Carbon Cloud" intelligent products
We built a "dual-carbon" Big Data platform to form a general capability foundation. We strengthened the development of carbon emission management software to realise the functions of carbon emission quantification, analysis, management and reporting. The Company built an application centre to support the access of various double-carbon applications, and closely integrated with the power, industry, construction, steel, transportation and other industries to improve low-carbon management. We built a unified dual-carbon data resource system, innovated the dual-carbon management decision-making service model, and improved the dual-carbon indicator system and evaluation system.

Innovating smart water conservancy solutions
Focusing on key areas such as water resource development and utilisation, flood and drought prevention, rural water conservancy, water ecology, and water environment, we promoted the modernisation of water governance system and water governance capabilities, created smart water conservancy with thorough perception, comprehensive interconnection, in-depth exploration, intelligent application, and ubiquitous service, and realised the whole-process intelligent management and control of water-related events perception, supervision and decision-making.

Launching the environmental monitoring program of "one network with unified management"
Focusing on the comprehensive supervision of ecological environment, ecological environment Big Data and other fields, the Company created solutions such as "China Unicom Ecological Environment Big Data Platform" and "Classification of Domestic Waste of Urban Residents", and implemented the comprehensive management system of ecological environment inspection and the "one network with unified management" project of ecological environment in Xiong'an, Shandong, Zhejiang, Shanghai and other provinces and cities to achieve cross-departmental, cross-level and cross-regional ecological environment data sharing, and realise digital, convenient and accurate management.

Building an Integrated and Open Ecosystem
Open cooperation is a historical trend, and mutual benefit and win-win are the expectations of the people. China Unicom has always adhered to the cooperation concept of "mutual consultation, co-build, co-share, co-creation, integration and win-win" and insisted on wider, broader and deeper open cooperation. It created a new ecological system covering the innovation chain, industry chain and value chain, and built a "joint fleet" with partners to achieve complementary advantages and mutual empowerment of all parties, in order to accelerate the integration of factors and resources, and jointly meet the people's ever-growing wonderful digital life.
Launching a new ecological cooperation initiative
The 2021 China Unicom Partners Conference was held on 6 December 2021. The theme of the conference was "Embarking on New Journey and Gathering Momentum for a Better Future". The conference aimed to fully demonstrate the digital technology achievements of China Unicom and its global partners, and jointly draw a blueprint for the development of digital economy. Liu Liehong, chairman of the Company, delivered a keynote speech titled "Anchoring the Main Channel of Digital Economy, Win New Future of Digital World" and released China Unicom's new strategy.
In order to accelerate the construction of a digital ecosystem featuring "diversified co-build, complementary and mutual promotion, crossdomain integration, and coopetition", China Unicom joined hands with friends from all walks of life to create a new model of industrial cooperation and jointly write a new chapter of digital economy with sincerity, open-mindedness and practical actions. We issued three new initiatives: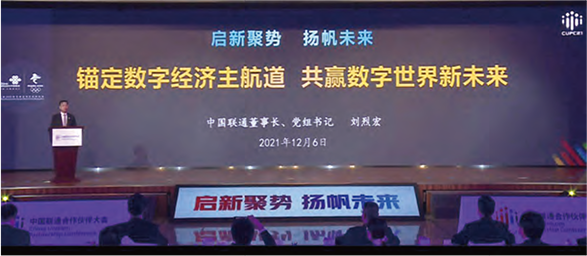 Deepening cooperation in the innovation chain and strengthening the national strategic technological power. Adhering to the principle of "open door for innovation, co-creation for win-win", we worked with all parties to carry out more in-depth collaborative innovation and released the "Technological Innovation Cooperation Plan".

Deepening industry chain cooperation and expanding new space for digital development. We worked together with all parties in the industry for win-win and sharing, fully opened up our capabilities, comprehensively met demands, and efficiently cooperated in planning formulation, business alignment, procurement settlement, model innovation, etc.

Deepening cooperation in the value chain and better integrating into the new development paradigm. We further strengthened collaboration with industry partners and investors, enhanced factor allocation and support capabilities, and promoted the improvement of the value chain.
Cooperating with fellow operators for new win-win development
China Unicom conscientiously implemented the deployment of new infrastructure, deepened network co-build co-share, realised the integration of digital information infrastructure resources, protected industry value, promoted sustainable development of the industry, and built a solid digital base for the construction of Cyber Superpower, Digital China and Smart Society.
Promoting co-build co-share in all aspects
The Company continued to promote the co-build co-share of 5G, 4G and basic network resources with China Telecom, and continued to expand the breadth, depth and thickness of the network.
The scale and coverage of 5G network was comparable to the industry. The two parties jointly built 690,000 5G base stations, covering all urban areas of cities and counties as well as developed towns and above in China.
The Company actively carried out 4G network co-build co-share and added 1.4 million new 4G shared districts, with the total reaching more than 2 million.
The Company expanded the scope of cooperation in infrastructure co-build, co-share and co-maintain. It co-built and co-shared more than 400,000 kilometers of trunk lines, optical cables, pole lines and pipelines, saving more than RMB4,000 million investment and RMB200 million maintenance costs per year. The Company further promoted the cooperation in cloud-network integration, communication equipment room, international submarine cable, emergency support and other aspects to realise the synergy potential.
The Company eliminated the monopoly of broadband in residential and commercial buildings to ensure the simultaneous exercise and fair access of telecommunications infrastructure construction.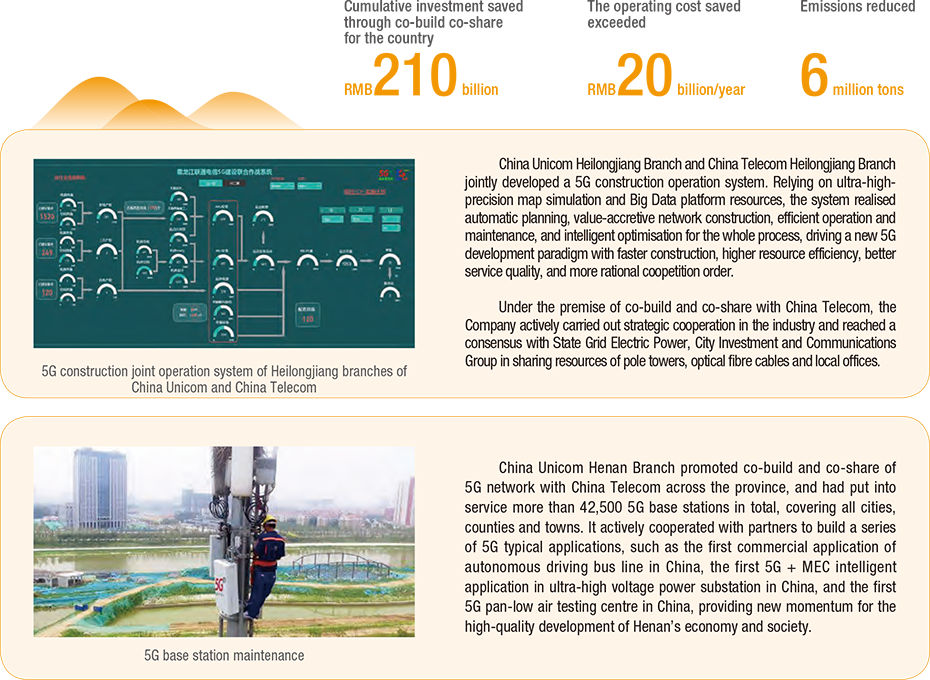 Firmly safeguarding the sustainable development of the industry
The Company unswervingly implemented the requirements of the central government for inspection and rectification, resolutely rectified the vicious competition at the expense of customers' interests and industry value, drove the entire industry to form a benign situation of coopetition, continuously unleashed development dividends, and helped the healthy and sustainable development of the industry. It fully played its role as a "stabiliser and ballast" of national economy, and vigorously promoted the construction of Cyber Superpower, Digital China and Smart Society.
Polishing our Brand as the First Choice of Major Communications Support
China Unicom always puts people's live and safety in the first place. It contributed to the prevention and control of the COVID-19 pandemic with data and intellectual power. It provided communication support for major activities, devoted itself in rescue missions and disaster relief, and fulfilled its mission with actions.
Making every effort to fight the pandemic
In 2021, the pandemic situation remained severe and complex. Local confirmed cases and people with no symptoms of COVID-19 were found in many places, the lines of prevention and control were not slackened. China Unicom worked closely with the pandemic prevention and control departments at all levels, and leveraged the edges of communication enterprises to fight the "pandemic" intelligently with information empowerment and provide strong support for regular pandemic prevention and control.
Building a smart wall for pandemic prevention
China Unicom continued to and leverage its information services edges in Big Data, artificial intelligence, 5G, etc. It developed digital applications such as travel inquiry system, cloud video conference, Unicom smart community, cloud filling, etc., to fully support the precise prevention and control of the pandemic.
Utilizing the unique edges such as multi-source, massive, open and strong integration of China Unicom's Big Data, the Company optimised the national travel card inquiry service system structure, and supported 4.2 billion "health code" inquiries across the country, providing over 8 billion times of service cumulatively, and effectively supporting the analysis and assessment on pandemic prevention and control as well as resumption of work and production.
The Company developed the Beijing Expressway Identification Checking System, which shortened the travelling time per vehicle from 3 minutes to 20 seconds, and completely solved the problem of queuing to enter Beijing.
In order to solve the difficulty in holding meetings during the pandemic, the Company deeply looked into the needs of central government agencies and small and medium enterprises at all levels, and provided meeting support to them by introducing the Unicom Cloud Video system. Throughout the year, the Company supported more than 24,000 meetings and provided 38 times of major meeting support services to the central government agencies.
The Company supported pandemic prevention and control in local communities. Catering for the visitor registration of communities, nucleic acid testing and monitoring of people flow, the Company developed products such as Unicom Smart Community and Cloud Filling, serving 59 cities in 18 provinces with 41.40 million person-times of services in total.
Ensuring smooth communication services
Facing the cases in Liaoning, Anhui, Guangdong, Guangxi, Shaanxi, Tianjin and other places, the Company made good use of its network advantages, acted in unison and actively mobilised its branches and subsidiaries to participate in the local communication service support, so as to safeguard pandemic prevention and control.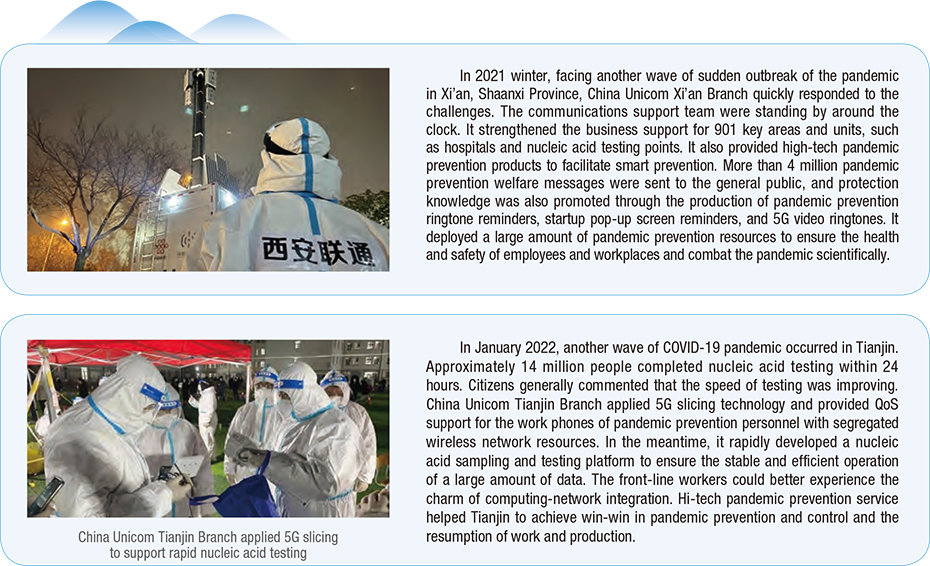 Fulfilling Responsibilities in Providing Communications – Support for Major Events
China Unicom adheres to the concepts of "carefulness, focus, trust, excellence and intelligence" in communication support. It strives to achieve the highest standard, the strict organization, the most practical measures, the best services and the best effects. In 2021, the Company provided communication support for major national conferences and events such as the National People's Congress and the Chinese People's Political Consultative Conference and the "Cloud Diplomacy". With its excellent results of "zero mistake, zero error and zero complaint", the Company was fully affirmed by the superior units and polished its golden brand as the "chief provider of major communications support".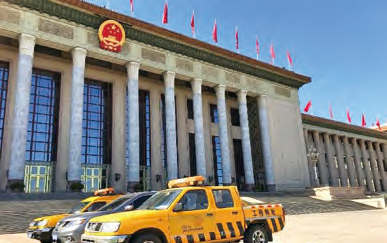 "Cloud Diplomacy" communication support
With regular pandemic prevention and control, "cloud diplomacy" has become the major channel for national and institutional leaders to communicate with the world's leaders and international organisations. In 2021, the Company successfully completed the communication support for 192 "cloud diplomacy" of central leaders and 31 major events including the China International Import Expo. It ensured network security with Unicom Cloud Shield, anti-D cleaning, domain name resolution and monitoring system, etc. The Company made outstanding contribution to "tell China's stories and spread China's voices" in the current complex situation, and contributed China Unicom's power to a new chapter of Chinese diplomatic relations in the new era.
Devoting to rescue and disaster relief
With the unpredicted weather and natural disasters, China Unicom insists to make the best efforts. At every critical moment, the company strives to stay at the front line of communications support and secure its network defense line.
Establishing a sound flooding control system
In response to flooding disasters, China Unicom made early deployment and revised its emergency communication support plan. It has established a robust the cloud-network collaborative emergency responsive system, which could adapt to the regional system, platform, centralisation and cloud resources to enhance its communication support capability and emergency response efficiency. The Company carried out inspection on hidden loopholes in advance, and organised 1,372 emergency drills throughout the year so as to ensure the reliability of the operation.
The Company carried out "Thousands of Miles Red Journey with Ingenuity Network" campaign. Communication fleets carried China Unicom's mission of "no absence at major moments" and represented the highest level of major communication support, which lasted for 38 days spanning approximately 4,000 kilometers.
Dare to bear difficulties and challenges
We carried out flood prevention and rescue work on the front line to ensure communication by riding wind and waves. In 2021, in the face of severe floods in Shanxi, Shaanxi, Henan and Shandong, as well as earthquakes in Sichuan and Qinghai, China Unicom was not afraid of difficulties and engaged in flood prevention and disaster relief with multiple measures. During the year, it dispatched emergency communication support 695 times, disaster relief personnel 134,000 person-times, rescue vehicles 47,000 vehicle times, emergency equipment 10,000 set-times, and 370 million emergency SMS.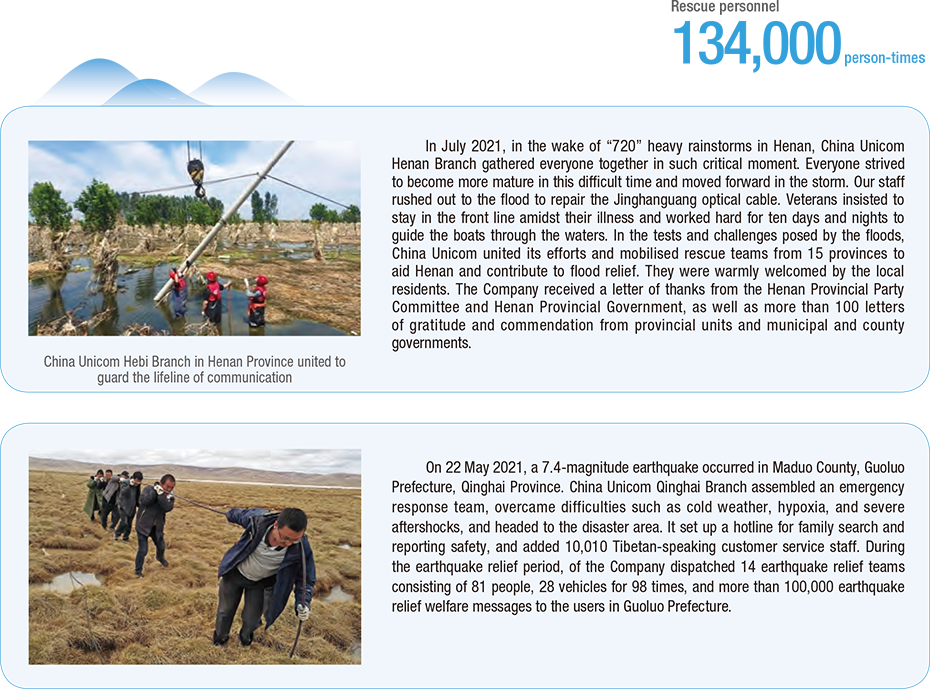 Measures and Actions